Let's Talk Organic
If you follow me on Instagram or watch my daily stories on Snapchat (SadiiTarin), you know I emphasize on leading an organic lifestyle. But what does that really mean?
Well, that depends on many factors so I will try my best to answer that in two parts: 1. Products and 2. Mind, Soul and Body
Products
Organic products are resurfacing from years of being buried. Since health and fitness are being trendy after years
Essentially it involves the method of choosing the best quality of products for you and your baby (and family of course). That does not necessarily mean the most expensive because mind you there are many pricey name brand items that we should steer away from. Now that topic is for another day but this method hones on your skill in recognizing true quality and making well informed decisions.
Food Choices: Natural Versus Organic
One of the most important products I am referring to is food. Have you ever picked up an item off the shelf in the grocery store and it proudly displays a label that says it's "natural"?  And you think to yourself "That sounds organic enough to me!"? Well, you're making a big mistake. Especially since you are paying premier prices for some of these products and not getting the quality they seduce you to believe in. The real matter here is that we are not informed well enough to make better food choices.
A good rule of thumb would be- natural is not organic and only organic is organic, they are NOT interchangeable. See that was simple. Problem solved. 🙂 Many products that boldly label "natural" may have one or two ingredients that are indeed natural. This gives them the "right" to boldly advertise the word onto their labels; while the rest of the ingredients are non-natural.
Organic foods are produced under approved methods and does not involve any sort of synthetic fertilizers. Whereas "natural" foods come with no guarantees. In fact, neither the FDA (Food and Drug Administration) nor the USDA (United States Department of Agriculture) have any rules or regulations over foods claiming to be "natural". This gives the food manufacturers a loop hole to advertise "natural" on foods that may even be heavily processed. I know it can get a little overwhelming deciding between all the varieties available. One easy way to know if the product is truly organic is to search for the USDA Organic label, as shown below.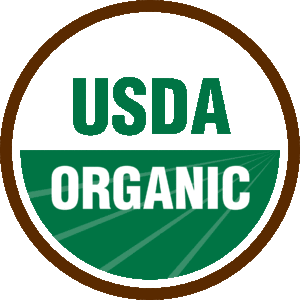 This can certainly can give you peace of mind because it has been heavily regulated to meet the standards. Learn more about organic standards and grades set by USDA.